Umm, yeah…show me how to make more time for me! Am I right?
How often do we put ourselves on the back burner and forget to put any focus on ourselves? We give and give to our kids, friends, work, church, and the list goes on and we put ourselves last. Well, let me tell you that this is your chance to make that change!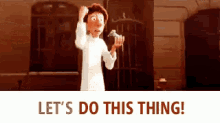 "Let's do this thing"
One of my favorite quotes from the Disney movie Ratatouille is when Linguini and Remy head into the kitchen and start cooking together. Linguini gets motivated and revved up to show their stuff in the kitchen. I love his passion and enthusiasm when he says "Let's do this thing!" Ever since I saw that scene I will often burst that quote out when I begin something new.
So, what does a movie about a rat secretly cooking have to do with you? I promise you there are no other rats or talk of cooking in this email. Ha ha! I am excited to let you know about something new that we can do together! I have created a fun challenge where you will get to join other women just like you and experience my 5 day Who Am I audio course for FREE! "Let's do this thing!"
Who Am I Audio Challenge
If you don't know, I created a free audio course entitled Who Am I. In this 5 day challenge we will learn to put ourselves as a priority and take a break from putting all of our energy and focus on others. As women we begin to wear out and have lost that sense of purpose and often even throw out any attention on ourselves at all.
It's Time to Reverse the Script
Can you relate to that at all? I know I can for sure. I was always giving to everyone around me so by the end of the day I was depleted and the thought of doing anything for me was always pushed aside for the next day.
So, it is time to reverse that script running through your head and learn that YOU are worth a few minutes each day to take care of you. When your cup is full it is much easier to spill out and help others. So, I want to help you learn how to do just that!
What is the course about?
Through this FREE Audio course challenge you will learn how to take a few moments each day to focus on you as a woman and learn how to move beyond the day to day life as a mom. In our time together we will do the following:
Discover Who YOU are in Christ
Learn that He has Big plans for YOU
Begin Making time for YOU
Re-Discover how to Dream again
Sounds great, right? So, I am sure you are thinking, why a challenge?
One of my biggest beliefs is that we are Better Together. Even being an Introvert, I still like to know there are others around me who can identify where I am at and are walking through it alongside me. Another benefit of a challenge is you have that box to check off. Somehow when there is a date set, time frame or accountability to do something we are more likely to complete it. So, a challenge is a perfect way to be part of something with others and have a timeline in order to complete it and have fun too!
So, how does this work?
All you will need to do is sign up and you'll have a video giving you all of your next steps! Once you are enrolled into the challenge you will be invited into an exclusive Facebook page just for those enrolled. Our challenge will begin on Monday, September 14! I will have a Live video in the exclusive Facebook page for each day of the challenge with content only for those who take part in the challenge and there will be an opportunity to create teams and have chances to win some prizes!! What? I am so excited!!
So are you ready to say it with me?…3, 2, 1… "LET'S DO THIS THING!"
All you have to do is click this link HERE and enroll in the challenge.
I am so excited to partner with you along this journey and I surely hope you will join me. Remember, the challenge begins on Monday, September 14 so you will want to be enrolled before then. So make sure to go HERE, enroll in the challenge and then you will have a chance for us to connect on the exclusive Facebook page before the challenge starts.
See you soon,
Stephanie
PS
PS: If you have a friend who you think you would like to join you, please feel free to send them the link to join. What better way to have the accountability you need then having a friend come alongside you?
PPS: If you have already gone through the course, I would still love for you to join us in the challenge! Not only will it give you a chance to connect with others and possibly win a prize, but it will help you really hear what you need for your next step of growth. Did you know that you only retain about 10% of what you hear? I promise, you will learn something new when you go through this with us a second time! Make sure to follow this link to enroll in the challenge so you have all the access to the challenge resources.